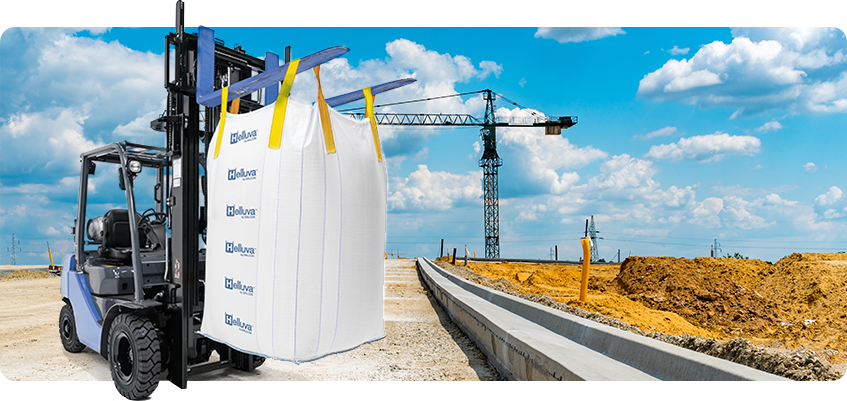 A bag that gives a rip about never ripping.
A warehouse is not a gentle place and the process of shipping is not a delicate endeavor. That's why Helluva flexible intermediate bulk bags are built to be pulled, pushed, yanked, lifted, stuffed, stretched and dropped. What goes in, stays in, safely, until you decide it needs to come out.
Enough options to fill, well, a bulk bag.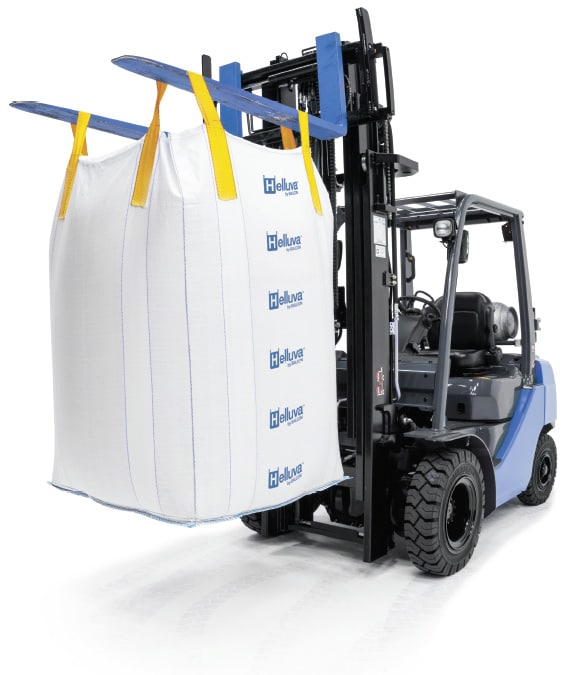 Helluva bulk bags are customizable to your size requirements and come in quantities as low as one pallet.
Beyond tailoring your Helluva bulk bag order to the right size and quantity, we'll also match the Helluva bulk bag design and material to your application. They are available in type A, type B, type C Anti-Static, Baffled, U-Panel and Circular Woven formats in 5:1, 6:1 and 8:1 aspects to accommodate most materials and conditions.
Helluva Bags can be UN approved to carry Group II and III hazardous goods up to 4,000 lbs.
You'll find Helluva bulk bags used in all kinds of industries including:
FOOD: MILK POWDER, SUGAR, SALT, FLOUR, DEXTROSE, STARCH, ADDITIVES
AGRICULTURE: HEMP, CANNABIS, SEED, GRAIN, NUTS, POTATOES
CONSTRUCTION: CRUSHED STONE, GRAVEL, CEMENT, CLAY
PLASTICS: ABSORBENT POLYMER, RESIN, PELLETS
STEEL: SPECIALTY MINERALS
MINING: PRECIOUS METALS, IRON, BENTONITE, URANIUM, LIMESTONE, COAL, POTASH, ROCK SALT, DIAMONDS,
PHARMACEUTICAL: SUBSTRATES, ELEMENTS, SOLVENTS, POWDERS
CHEMICAL: POWDER AND GRANULAR GOODS
The quick and the tough.
Speed wins. That's why Helluva bulk bags and packing accessories by Balcon are shipped from warehouses located in South Dakota, Illinois, Texas, Georgia and Pennsylvania. These strategically located warehouses reduce shipping time and freight costs. Who says tough can't be smart too?
Helluva bulk bags make sense.
How do Helluva bulk bags hold off competing packaging options?
Helluva bulk bags are more efficient to load, unload, transport and store then smaller containers, saving you time and money.
Helluva bulk bags are proven safe in a variety of applications.
Helluva bulk bags reduce the risk of outside contaminants reaching the product using special bag coatings or liners.
Helluva bulk bags use the highest quality materials ensuring superior strength and performance.
Helluva bulk bags are manufactured in an ISO 9001:2008, ISO 14001:2004, 22000:2005 and BRC Certification, BS OHSAS 18001:2007 facility to ensure industry leading cleanliness and quality.
BAGS THAT HOLD UP TO THE HYPE.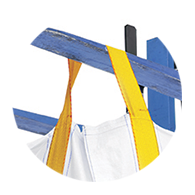 We've never been good at accepting defeat - or even second best. Maybe that's why lesser generic bulk bags tear, split and rip while Helluva bulk bags endure. So insist on Helluva, and insist on a company that gives a damn about supplying damn strong bags.
Vigorous testing throughout entire manufacturing process
Strongest virgin polypropylene woven materials
Food, Pharma and ISO certified manufacturing facility
Professional customization design options
In-Stock inventory available for fast delivery times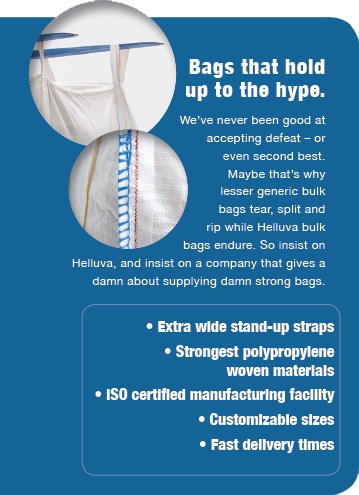 ASK FOR THEM BY NAME.
REMEMBER THEM BY THEIR PERFORMANCE.
Bulk Bag Sizing Calculator
This Calculator can provide guidance on sizing standard bulk bags. Contact us for expert FIBC design advice.
Step 1

Your Product Volume
(Desired total package weight)
Step 2

Your FIBC Dimensions
Design Your FIBC
Standard bulk bags have a 35" x 35" base, with up to 96" height. We can custom design almost any size, within functional limits*. Factors such as pallet size can help you choose your base dimensions; then, increase height for greater capacity.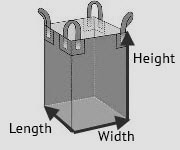 Error: Exceeds maximum recommended weight limit
Step 3

Find Your Bag
Click FIND MY BAG to see the Bulk Bags that match the cubic feet you calculated.
Find My Bag
*PLEASE NOTE:
Different bag designs have different maximum weight capacities and safe maximum dimensions. Limits on bag capacity and dimensions are determined by safety, functionality, and usability by the customer. If you have any questions or concerns about your bag needs, please call us to discuss the best bag design option for your needs:
1.877.745.0311