FIBC BULK BAGS
You save time and money with Helluva Container's FIBC bulk bags because they are more efficient to load, unload, transport and store than smaller containers. See below for our full line up of FIBC bags.
We have an in-stock bag program for common sized bags and even store custom-designed bags, so you don't have to worry about keeping an inventory.
Need a custom bag to meet your specific needs? We do that too.
Our bags can be UN approved to carry Group II and III Hazardous Goods up to 4,500 lbs.
All of our bags can be manufactured as Certified Food or Pharma Grade upon request at one of our state-of-the-art Clean Room facilities commissioned to the highest hygiene standards. Click here to find out more about our Clean Room production.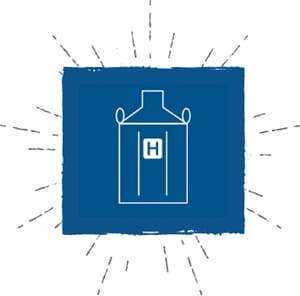 Sizing Calculator
This Calculator can provide guidance on sizing standard bulk bags. Contact us for expert FIBC design advice.
Step 1: Product Volume
(Desired total package weight)
Step 2: FIBC Dimensions
Design Your FIBC
Standard bulk bags have a 35" x 35" base, with up to 96" height. We can custom design almost any size, within functional limits*. Factors such as pallet size can help you choose your base dimensions; then, increase height for greater capacity.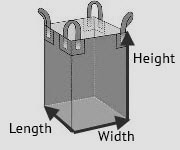 Error: Exceeds maximum recommended weight limit
Step 3: Find Your Bag
Click FIND MY BAG to see the Bulk Bags that match the cubic feet you calculated.
Find My Bag
*PLEASE NOTE:
Different bag designs have different maximum weight capacities and safe maximum dimensions. Limits on bag capacity and dimensions are determined by safety, functionality, and usability by the customer. If you have any questions or concerns about your bag needs, please call us to discuss the best bag design option for your needs: 1.877.745.0311
FIBC BULK BAG STYLES
Click an image to learn more.
FIBC BULK BAG FILL, DISCHARGE & HANDLING OPTIONS
Click an image to learn more.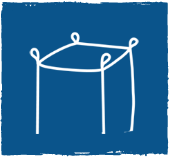 Open
An Open top is a bulk bag without any type of top closure. The product is always exposed.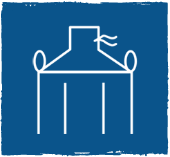 Spout
A Spout top is a cylindrical opening that can be tied off to protect the contents. The spout is smaller and narrower than the bulk bag and requires special machinery during filling.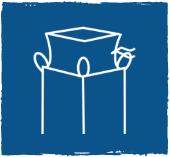 Duffle
A Duffle top is a lightweight panel (skirt) sewn to the top of the bulk bag. The skirt height is proportional to the bulk bag dimensions. After filling, it can be tied closed to protect the contents.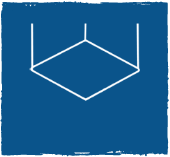 Flat
A Flat bottom has no discharge and contents are removed from the top. Cutting the bottom of the bag is not recommended, as it could be dangerous and cause serious injury or death.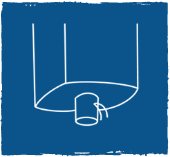 Spout
A Spout bottom lets you control the discharge of your product without destroying the bulk bag. It remains closed until you are ready to discharge and comes in multiple sizes to fit your needs.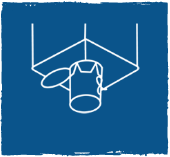 Spout+Star Cover
A Spout + Star Cover is a normal spout with a heavy fabric cover that looks like a star and is sewn over the discharge spout for protection of the spout itself. It prevents bulging and minimizes contamination.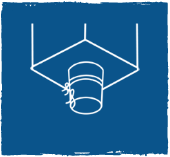 Spout+Iris Closure
A Spout + Iris Closure is a normal spout with a safety valve used to control the flow of the product being discharged.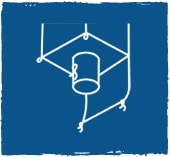 Spout+Bottom Flap
A Spout + Bottom Flap is a normal spout with a flap that covers and protects the entire bottom of the bulk bag from dirt and wear.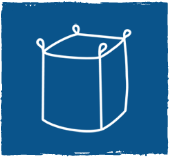 Corner
Corner loops are sewn into each corner seam of the bulk bag and are the most common loop type. When using a forklift, all four loops must be used.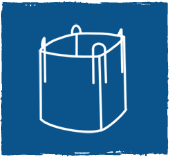 Cross Corner
Cross Corner loops are sewn into eight points on opposite corners of the bulk bag. This makes the loops bigger and stand upright, so forklifts can grab them easier. Cross-corner loops require a circular fabric bulk bag.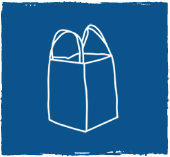 2 Loops
2 Loops are mainly used for lifting bulk bags with smaller capacities. These are ideal if you don't have a forklift.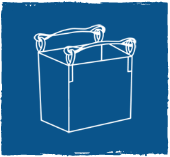 Stevedore
Stevedore straps are heavy-duty straps that thread through two sets of lift loops on a bulk bag to offer additional ways to lift the bag.